Dino and Seth are back in a new and exciting mystery!
Like Pizza and Beer
Coming October 4th!!
From
Lyrical Press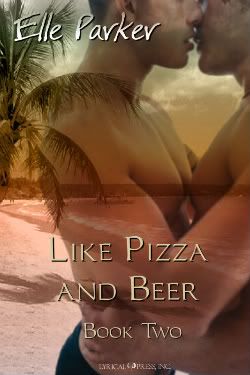 Working for his ex and his boyfriend, Dino's past and present cross.
Dino is caught off guard when his ex shows up out of the blue asking for help. His current lover, Seth, is pushing him to find dirt on his sister's boyfriend. Juggling between two cases – and his boyfriend and ex – isn't easy, but what choice does he have?
Working with his ex takes Dino on a trip down memory lane, raising a few doubts and stirring up Seth's jealousy. Now he must save his ex's restaurant and his relationship with Seth before it's too late.
Excerpt:

Seth hopped out and started around the car to cross the street. I hung back and reached under the seat to grab my gun and holster, which I'd been keeping there since the business with Gigi started. Easy to get to if I need it, but stays hidden until I do.

"What'cha doing?" Seth had turned back and was standing near my side of the car.

"Nothing," I said. I got out and straightened my jacket, then closed the car door quietly.

"Bullshit." He eyed me in the dim light of the streetlamp. "You're actually gonna stand there and lie right to my face?"

"Well…if you can tell I'm lying, then it's not really a lie, is it?" I nudged him in the direction of the sidewalk. "Let's go."

"You think this is that serious?"

"I don't know. But the kind of guys who sit in cars to intimidate nice women usually speak 'gun' very fluently and conversations tend to go better."

"Yeah, all right," he said, but I could tell he didn't like it.

Get your copy October 4th, 2010 from Lyrical