I was at my dad's cabin, one of my favorite places in the world, and also one of my best places for writing. Our cabin has beautiful views out every window and a serene and peaceful atmosphere. It also has several great spots to set up and work on my latest novel...
This is my favorite: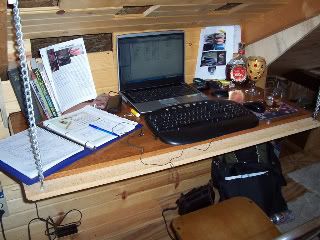 This is the desk my dad built up in the loft of the cabin, and I have spent many happy and productive hours working at this desk. You have to kind of crawl into place in that chair, because most grown adults can't stand up straight in the loft, but once you're there, it's a very comfortable spot.
The weather was so nice this weekend, I actually did most of my work sitting out on the screen porch - but that's much less photogenic.
I dearly love to see other people's work spaces. Do you have a picture of your desk on-line? Post and link in the comments and let everyone see.